International Packers and Movers Pakistan Marshall Packers and Movers International is the best and reliable International Packers and Movers for Expert house Furniture Packers & Movers,Packing Moving Storage Shipping Freight Forwarding Transportation International Cargo (SEA/AIR) Warehousing Consolidation with reliable Packers Movers team and Logistics Network, Packaging, packing and moving company in Islamabad Capital of Pakistan,Lahore,Karachi, Rawalpindi, Quetta, Peshawar, Multan, Hyderabad, Sahiwal, Faisalabad, Sialkot,Gujranwala, Karachi,Pakistan. We are working with t he maximum satisfaction of our valuable customers needs in the field of overseas quick packing and moving, relocation,removals, cold supply chain,goods trucking, goods Transportation,truck rental companies in islamabad,logistics,warehousing,storage services,Domestic Home house Apartments,flats shifting's & relocation services, cargo service in Karachi Islamabad,Lahore,Rawalpindi,Gujrat,Gujranwala Karachi, Peshawar, Quetta, Multan, Faisalabad, Sialkot, Taxila, Mardan,Noshehra, Abottabad, Murree, Azad Kashmir, Rahim yaar Khan, Sahiwal, Hyderabad, Sukkur, Mianwali, Chakwal, Quetta, Pakistan and worldwide. We provide free quick rates and quotation. We are away from only single call or email? Yes!, Book your cheap, reliable, quality,professional Packers and Movers in Islamabad Lahore Rawalpindi Karachi. Please get free packing moving service quotes for Diplomatic Enclave in Islamabad. Logistics and supply chain services provider for NGOS/Social Aid companies in Islamabad Our moving consultant will response your shortly. Marshall packers and movers offers professional moving facility for local house and office shifting from one city/town/villas to another with hassle free moving service.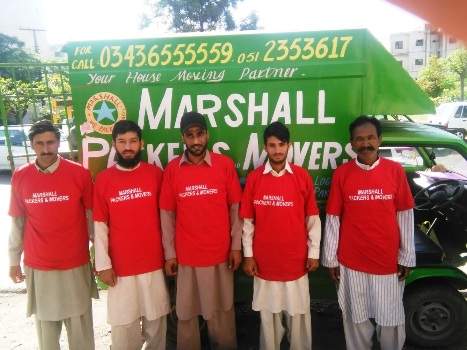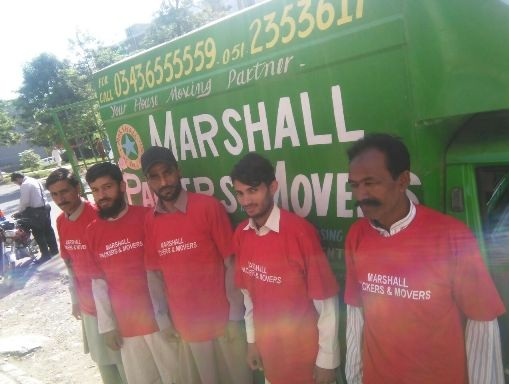 Marshall Packers & Movers is reliable international Packing & moving company in Islamabad Capital of Pakistan. Marshall Packers and Movers was established in April 8, 2005 in Islamabad as a Head office with branches network in Rawalpindi Lahore Karachi Multan Peshawar Faisalabad Sialkot Gujranwala. We have skilled team /staff of Packers /Managers to assist for all your house packing & Shifting needs, Customs clearing agent, Air and Sea Cargo Shipping Service, Airfreight, Sea Freight, Freight Forwarding Service, Goods transportation, House shifting and relocation, Cargo services. We provide best quality of services and popular house luggage Packers and Movers in Islamabad Sectors F-6, F-7, F-8, F-11,Markaz, Diplomatic Enclave Blue Area, Islamabad with competitive freight rates for all shipments, We are the associate Member of IAM, USA from 2010 to 2018.(International Association of Movers, United state of America).
Packing and Moving Service
We provide the following services at our clients/customers on door step with door delivery. Marshall House luggage packing and moving, Local house shifting and relocation, Office shifting services, House Packers & Movers, Goods transportation, Cargo services, customs clearance agent, Freight forwarding service by road/air/sea.
Packers and Movers in Rawalpindi
Home removal or relocation of house furniture service is a company that helps people and businesses move their goods from one place to another on door to door basis. It offers all inclusive services for relocation like packing, loading, shifting, Goods transportation, moving, unloading, unpacking, arranging of items to be shifted. Additional services may include Electrician, Carpentry, cleaning of the place and warehousing facilities, Home Movers in Islamabad Rawalpindi Lahore Karachi, Peshawar, Multan, Quetta, Pakistan.
Packers and Movers in Karachi
Marshall Packers and Movers with personalized approach of staff can ease your burden and completely fulfill your task of home shifting & relocation. We are proficient in providing fast and reliable packing and unpacking services in Rawalpindi Islamabad Lahore Karachi and all across Pakistan. We offer best packing and moving services including local house and home moving and packing shifting relocation home removal company, commercial or office moving, movers and packers international moving, packing services, as well as household goods Packing Moving storage and warehousing Islamabad Lahore Karachi Rawalpindi. Over the years, our client base company has grown considerably that we have now expanded to interstate our moving services Worldwide.
Packers and Movers in Lahore
Marshall Packing Moving Services crew continuously and consistently provide reliable, fast and safe overseas, local and international relocation services for household as well as companies in Pakistan and beyond.Domestic and International Relocation, Removal Services, Home and Office Shifting, Local Shifting of Homes & Offices, Car Carrier Services, Logistics, Relocation, International freight forwarder by Sea/Air, Export and Import services, Custom Clearance,Door-to-Door Services, Packing,Transportation, Loading and Unloading services, Packers and Movers in Lahore, Packers and Movers in Islamabad, Packers and Movers in Karachi,
Packers and Movers in Peshawar
packers and movers, packers and movers in Pakistan,Packers and Movers in Lahore, Packers and Movers in Islamabad, Packers and Movers in Karachi, packers and movers, packers and movers in pakistan, packers and movers in Karachi, packers and movers in Faisalabad, packers and movers in Peshawar, packers and movers in Hyderabad, packers and movers in Sialkot, packers and movers in Lahore, packers and movers in Islamabad, Movers and packers, movers in Pakistan, packers in Pakistan, movers and packers in Pakistan, movers in Karachi, movers in Lahore, movers in Islamabad, packers in Karachi, packers in Islamabad, packers in Lahore, car carrier services in Pakistan, export and import services in pakistan, International Freight forwarder, Relocation company, Shipping Companies, Custom Clearance agents in Islamabad Lahore Karachi Multan Rawalpindi Peshawar Gujrat Gujranwala Sialkot Faisalabad, Pakistan. Exceeding our customers expectations by providing superior quality of packing and moving services in Islamabad is a key to our success concerning Packers & Movers industry. In our commitment to provide the highest level of services in Rawalpindi, Lahore Karachi , Islamabad designed packing, shifting, relocation, air-freight, sea-freight, containers & transportation. Being a Valued Customer, do not waste your time, You can reach us by phone and create a short decision to get quote for your all Packing, moving, relocation, SHIFTING,HOUSE RELOCATION,TRANSPORTATION AND INTERNATIONAL CARGO IN ISLAMABAD. Marshall Packers and Movers is the Market leader in packers & movers service industry of Pakistan.

The most difficult task is to pack and move to a new place, be it your residence or workplace. But with Marshall Packers and Movers, you don't need to worry a single bit. We are proud to introduce ourselves as one of the reputed firms in the movement of household and commercial goods. Our Head Office is atIslamabad and the branches are at Lahore, Karachi, Peshawar, Quetta, Multan, Faisalabad, Sialkot, Gujrat,Gujranwala.Marshal Packers & Movers have continued to be a leader in the household and commercial goods moving industry and have a good position in packing and moving firms/companiesin Capital Islamabad and as well four provinces(Sindh KPK Punjab Baluchistan)of Pakistan. We offer ahighly personalized fast moving service, which several firms find difficult to compete with other packing and moving companies. We understand that your possessions are your assets. Hence, it is obvious that transferring your goods from one place to another,can cause considerable tension in your mind. We offer affordable, high quality quick Packaging, packing and moving services for all your packing and moving needs. We have trained and experienced staff for packing all your valuable items from the smallest to the biggest. The senior and specialized professionals, who ensure complete satisfaction for you and your family, handle the customers personally. We provide our services in household relocation and also in corporate transfers. All the elements of services rendered are discussed in detail with our clients during our preliminary meeting, ensuring a trouble free and comfortable relocation. We are best door delivery agent in pakistan for all sea and air shipments to desired destinations. For Marshall Packers and Movers, each client is precious with whom it would like to have the best experience.Packers, Packers & Movers, Movers in Islamabad,Rawalpindi,Pakistan,rwp, isb, pindi, Pakistan, Lahore, Karachi, Peshawar, Gujrat, Gujranwala, Azad kashmir

local & office shifting /relocation services. Topcourier companiesin Pakistan offering express courier services,domesticand worldwide courier services,international courier services.Bestcourier ratesandfast delivery services in Islamabad, Lahore, Karachi Property dealers and real estate agents in Islamabad
Quick Furniture Packers and movers,Relocation and shifting,Goods transportation
Furniture Packaging moving services companies in Islamabad Lahore Rawalpindi Karachi Pakistan